Upcoming events
Auckland City Mission receives support from a number of community and corporate events around the city. Check back here regularly for information on happenings the Mission is involved in and community fundraisers.

---
All the rhythm and thrills of a Brazilian street party!
Feel the same excitement, revelry and sheer enjoyment as the great Rio Carnival - possibly the biggest party on the planet. This stunning showcase of Latin dance and music has it all - the energy, the seductive sounds of samba, the exquisitely flamboyant costumes.
The contagious rhythms and boisterous beats will have you up on the dance floor and partying like it's Mardi Gras!
With 25% of all profits being donated to the Auckland City Mission this is your chance to have some fun whilst making a real difference!
For more information and tickets visit: http://www.ticketq.co.nz/
---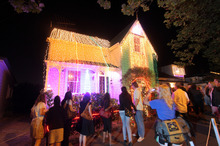 Friday 1st, Friday 7th & Saturday 8th December 2012
Greater Auckland Chorus at the Franklin Road Christmas Lights
Be part of an Auckland institution and join us on Franklin Road for this year's Christmas lights display.
The Greater Auckland Chorus will once again be performing a selection of carols throughout the length of the famous street. As well as providing a fantastic festive atmosphere the singers will be collecting money for the City Mission's Christmas appeal along the way.
Come along and be part of this iconic occasion and support this magnificent group of carollers in their efforts to help the Mission.
---
If you would like to register your event or fundraiser please email the Fundraising Team
---
If you would like to help the Auckland City Mission provide support to those who need it most, please make a donation here